Second up in our new Q & A feature is club Chairman, Peter Jones. Many of our younger members won't remember the 'Botham esk' long locks or the handlebar moustache that adorned the man responsible for some of the fastest bowling in the league.
In later years that pace turned to guile, with the infamous, Peter Jones 'pie'! Both were equally effective in securing hundreds of wickets and turning games that hinged on a knife edge.
As well as being another crucial member of the all-conquering 1975/6 team, Peter has been a driving force, alongside Kevin Threlfall, in securing Fordhouses Cricket Club's long term future. The fabulous new facilities and idyllic surroundings are a fine tribute to the management teams hard work. Right, on to the questions. Over to you Peter…
1. Why did you join FCC?
When I was teaching at Northicote School (67-70), I played in the occasional knock-out for FCC, but continued to travel home at weekends to play for Market Drayton. However, the lure of Fordhouses great social scene, advent of league cricket, persuasive powers of Ash Pollard / Don Barnes plus Vic Brown's piano playing meant that I joined the club on a regular basis in 1972.
2. What (or who) was your Inspiration to get into cricket?
My uncle Jim Buckley provided the inspiration to play the game. He was the demon opening bowler for my village team, Cheswardine (North Shropshire). We practised for hours on all types of different surfaces including coconut matting! Sadly, after nearly a hundred years the village lost its fantastic cricket ground due to a lack of interest and a default clause in the lease – perhaps my inspiration for trying to secure FCC's long term future?
3. Who is the best FCC player of all time and why?
A combination of Mike Brewer's flight and skill coupled with Brian 'Ticker' James' sheer tenacity and unerring accuracy would make up our best player ever. In addition, they were great guys and fantastic clubmen.
Having said that, I believe we are on the brink of producing some very special players from the junior ranks of our club and I look forward to those individuals being talked about so fondly in years to come.
4. Who is the best player you have ever played against?
Over the years I have encountered an endless list of County and Minor County players. In a testimonial game I played against the Pakistani Test legend Sarfraz Nawaz and he was a formidable opponent to face with bat and ball.
5. What is your most memorable personal moment?
May 2013 – Launch of the new facilities by Sir Ian Botham. As Chairman it gave me huge personal pride, to co-lead with Kevin, a project that has secured an exciting future for the club.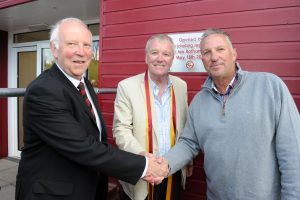 In terms of playing I will always remember a game against Newcastle and Whitmore. We had not lost a game all season and were confident about knocking off Whitmore's target of just over 200 runs. At 65 for 9, Fordhouses were obviously in trouble, Brian 'Ticker' James and I then proceeded to take a shine to the Whitmore attack and 135 runs later won the game and kept our record intact.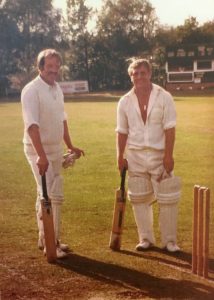 6. What is your most memorable team moment?
Lots of fantastic memories of winning leagues/knockouts in Don Barnes' all conquering FCC team in 1975-6. I particularly remember winning the Express and Star Knock-out for the fifth time against Himley Cricket Club and the incredible celebrations that went on late into the night! [Peter is back row, 4th from left].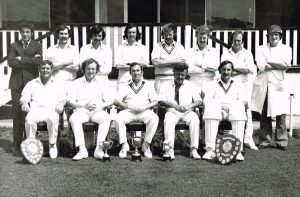 7. Did you have any superstitions before, during or after a game?
No real quirky habits, but I did play for a whole season (1985) in my legendary pink kit – the result of a washing disaster! We won many trophies that season and the pink 'attire' obviously brought us luck.
8. What change would you make to the game to get more kids playing?
At the moment there seems to be a total imbalance between the contribution of local state schools compared to voluntary cricket clubs in terms of youngsters learning and playing the game. Perhaps sports governing bodies/government agencies could redirect funds directly into clubs holding appropriate accreditation to deliver starter/taster programmes in schools?
This needs to be followed up by innovative competitions, coaching sessions etc. Parents, teachers all need to support and embrace these initiatives which should help to develop youngsters interest and enjoyment in the game.