Next up in 'On the Square with', is former 2nd XI captain, Dave 'Rambo' Ramsbottom.
Rambo is another familiar face around the club, having been a member for 35 years.
Those of us fortunate enough to have played cricket under Rambo will be familiar with his aggressive batting style and passionate captaincy. To many of his competitors he may be best known for his famous red socks!
Supporting Fordhouses both on and off the field has become a family affair with Dave's son, Kyle representing the U13's, and wife Jo, heavily involved in the organisation of numerous club events including President's Day. Without further ado, over to you Dave…
1. Why did you join FCC?

I used to knock about with Craig Taylor whose mom and dad's house backed onto the old club so we'd go and spend hours in the nets.  Joining the club as a youth aged about 12 was just a natural progression and last year I represented the seniors! I've just realised that's 35 years. Wow!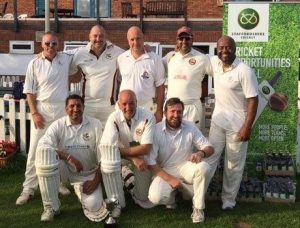 (Fordhouses CC over 45's – Staffs Club Champions 2016)
2. What (or who) was your Inspiration to get into cricket?
I just used to and still do love watching test match cricket. Botham's ashes in 81 was at the time I was really starting to play so that was a big inspiration.
3.Who is the best FCC player of all time and why?
I played most of my cricket in the 2nd team being called up to the 1st XI when required so I wasn't among the better players on a consistent basis. However, Brian and Roger came and played in the 2's and taught us young-uns a lot. There's no way of choosing so I'm going for both of them!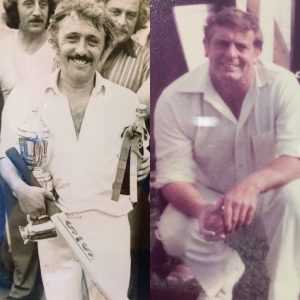 (Roger Brewer, pictured left. Brian James, pictured right)
4. Who is the best player you have ever played against?
I really can't answer that because I never worried about our opponents. I just always backed us to win any game from any situation.
5. What is your most memorable personal moment?
Scoring a century at the old ground with my dad watching (he didn't watch very often) and handing him my centurions tie. Remember them?!
6. What is your most memorable team moment?
Captaining the 2nd XI to the Birmingham League division 1 title and taking a left handed catch in the slips to get the bonus point that ensured the title came to Fordhouses. On the same night England beat Germany 5-1.  If Carlsberg did saturdays !!!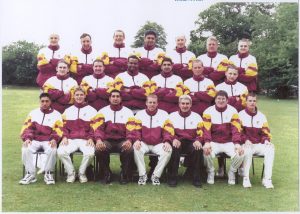 7. Did you have any superstitions before, during or after a game?
Before the game was a case of recovering from another big Friday night out. During the game I would be wearing the lucky red socks. My son Kyle is following on the tradition. After the game it was a case of having a great time with all the lads from every team on the old balcony. Last one out lock up!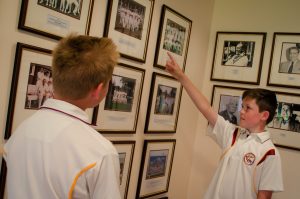 (Kyle is pointing out his Dad to one of the other club juniors)
8. What change would you make to the game to get more kids playing?
I'm not sure about changes to the game but I'd like to see kids playing more in schools.
Read more 'On the Square with' features:
On the Square with Peter Jones – click here
On the Square with Roy Salter – click here
On the Square with Jez Thomas – click here