Next up in our Q & A feature is club Welfare Officer, Jez Thomas. Jez is an extremely popular and well known face around the club having represented Fordhouses CC at every level – from youth team to 1st XI.
Jez was a formidable quick opening bowler back in the late 90's/early 00's, where he was part of a trophy winning 1st XI under skipper Shaun Guest.  Jez now works with the next generation of young players in his role as Welfare Officer and plays in the 4th XI alongside his son, Jack.  Over to you Jez…
1. Why did you join FCC?
I joined FCC as a youngster as the old ground (Taunton Avenue) was at the bottom of my road.  I spent lots of my early days playing at the ground so it was a natural progression to start training and playing youth team cricket for FCC. I've now played for every team!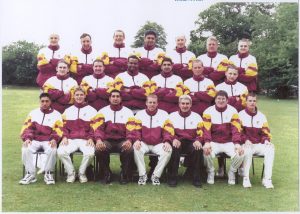 2. What (or who) was your Inspiration to get into cricket?
My inspiration to get into cricket has to be watching I.T Botham as a young boy – in the late 70's and early 80's. He was such an inspirational figure and it was great to see him open the new ground.
3. Who is the best Fordhouses CC player of all time and why?
Although I sadly never saw him in his prime I would say Brian James is the best player to have represented FCC. Watching him bowl over after over when in the twilight of his career was inspiring enough but it was the number of players both at the club and from other teams who spoke in awe of him which underlined how special he must have been. He was also one of the nicest men you could wish to meet and really took me under his wing when I started playing first team cricket.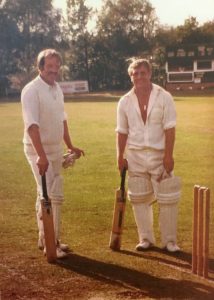 4. Who is the best player you have ever played against?

Although I have had the privilege of playing with and against some amazing overseas cricketers I think the best club cricketer I have played against would be Andy Shorter of Himley. He was an incredibly hard hitting batsman who would be looking to attack you from ball one! I don't think I ever played against him when he didn't get at least 50!
5. What is your most memorable personal moment?
My most memorable moment would have to be winning the league in the first team for the first time and taking 40 wickets to help achieve it.
6. What is your most memorable team moment?

There have been so many memorable team moments – but one that particularly stands out is when we played Pontadarwe from South Wales in the National Knockout in the early 1990's. We travelled by coach and had an amazing game – winning of the last ball of the match 8 wickets down with me waiting very nervously at number 11. After the game we went to the village pub where the locals serenaded us with a spine tingling rendition of "Bread of Heaven" – to which the only reply we could muster was "Oooo Bully Bully!" That was the beginning of an amazing few years in the first team under the captaincy of the best skipper I have ever played for in Shaun Guest. We had such a fantastic team spirit we must have been a nightmare to play against!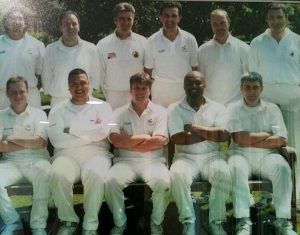 7. Did you have any superstitions before, during or after a game?

My only superstition would consist of re-tying my boot laces just before I bowled!
8. What change would you make to the game to get more kids playing?
I think there are lots of great initiatives now to get youngsters involved in the game – and T20 matches are at an affordable price. My only concern is that there is no way near enough cricket on mainstream TV – it needs a much higher profile!
More on the square features:
On the square with Roy Salter – click here
On the square with Peter Jones – click here