All Stars Cricket is a new ECB initiative aimed at teaching 5-8 year old's the basics of cricket.
Courses are currently finished for the 2018 season. When courses are released, you must book your All Star Cricket course, through: https://www.ecb.co.uk/play/all-stars/parents
During the 8-week course, children will meet new friends and learn all of the fundamental skills to play cricket. Our coaches will teach your children the following skills:
– How to throw and catch a ball
– How to hit a moving ball
– How to bowl with a straight arm
– The basic rules of cricket
– How to work as a team
We would also encourage parents to get involved. Mum and/or Dad are encouraged to stay for the hour long session and get involved.
The 8-week course costs £40 and includes an All Stars Cricket branded pack including a cricket bat, ball, shirt, cap, backpack and water bottle.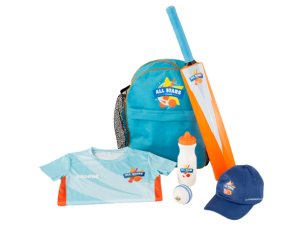 To sign-up to the All Star Cricket course, please go to https://www.ecb.co.uk/play/all-stars/parents
For other junior coaching sessions at Fordhouses Cricket Club, please click here