First up in a new Q & A series called 'On the Square' is Roy Salter. In his day, Roy was one of the finest players at the club and part of the all conquering team of  the 70's. Just check out the pictures in the Brewer room and you'll see plenty of Roy!
You'll now see Roy on the boundary rope giving out his pearl's of wisdom to first team regular's and aspiring youth players.  He is a wonderful club stalwart and an absolute gent.  So, without further ado, over to you Roy…
1. Why did you join Fordhouses Cricket Club?
I was inspired to join a cricket team when I played for my school against the staff team. They tried hard, but they couldn't get me out!
That experience gave me the bug and I joined Fordhouses Cricket Club's youth teams at 15. It was around 1969.
2. What (or who) was your Inspiration to get into cricket?
I love watching cricket, even as a kid!  Every year I counted down the days till Worcester played at Goodyears'.  At that time, my man crush was Geoff Boycott so being able to see him in person was a real treat!
3. Who is the best FCC player of all time and why?
Tough question. So many great players – can I pick 3?!  My first pick is Brian 'Ticker' James. He was a great bowler and lovely man.  My second and third picks are Mike and Roger Brewer.  Rog was the best player of spin bowling I've ever seen in club cricket.
4. Who is the best player you have ever played against?

The best player I played against bowling wise was Gladstone Small. I also played against Andy Flower when Fordhouses Cricket Club were part of an ICC Trophy warm-up series.
5. What is your most memorable personal moment?
Most memorial personal moment was scoring 178 not out in an opening stand with Brian Smith. The game was a knockout against Springdale. Knock out cricket was so special back in the day!
6. What is your most memorable team moment?
Most memorial team performance was winning the Staffs Cricket League three years on the trot.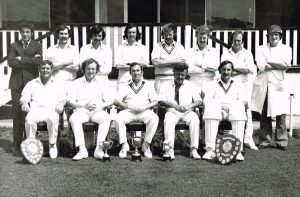 (Roy pictured bottom row, second from left)
7. Did you have any superstitions before, during or after a game?
Yes. I always put everything on right first. My right sock. My right leg in my trousers, My right boot. My right pad!
I also always sat in the same place in the dressing room. I've even asked people to move – how daft is that!
8. What change would you make to the game to get more kids playing?
That's a difficult question. When I was young lad my farther bowled at me with a cricket ball. These days kids are more interested in playing computer games, which I find sad.
All the schools had teams and we would play after school finished but teachers don't seem to have the same desire to do that these days.
Now tournaments seem to happen during the day. That is fine, but nobody is around to watch or talent spot kids that could be excellent club cricketers.